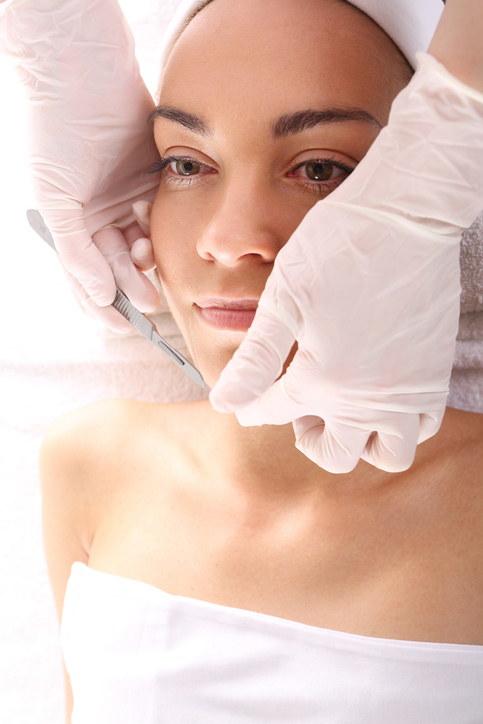 Dermaplaning is a technique designed to remove dead skin cells on the top layer of skin. We offer this as an alternative for people who are not getting results with microdermabrasion or those who would like an instant bright appearance. This is a non-invasive procedure that gently removes the top layer of skin to leave it looking smooth, vibrant and hair-free.
At Love Laser & Med Spa, Dermaplaning is followed by the application of organic, natural and indigenous plant ingredients from Desert Dermatologics.
EITHER
Glycolic Exfoliating Cleanser (2.5 Glycolic acid, plus Calendula and Arnica extracts to reduce inflammation while it melts away fine lines and wrinkles.
OR
Vitamin C Lasting Serum a treatment with an anti-aging and collagen building benefit Followed by an application of Daytime Defense Cream for perfect hydration You will leave us with glowing smoother and healthy looking skin.
Desert Dermatologics will transform you skin inside and out with this great combination of skincare products. Desert Dermatologics products are designed by a women's physician with formulations thirty years in the making. Dr. Douglas Krell a former botanist, using his knowledge of desert plant chemistry has prepared this remarkably effective facial care line, which is organic, natural and prepared with indigenous plant ingredients, no preservative, parabens or sulfates and is NOT tested on animals.
Here's a close look at the benefits of the dermaplaning procedure:
What is Dermaplaning?
The treatment is performed quickly and does not cause any pain. Dermaplaning can be performed every 3 to 4 weeks and typically removes several weeks of dead skin cell buildup. The procedure is relatively safe on most skin types. Dermaplaning is among the more aggressive skin exfoliation and rejuvenation treatments available. The skin may peel naturally after the procedure, especially if you are undergoing the treatment every two to three weeks. This means you will need to use an emollient-rich moisturizer day and night as the peeling process begins, and ensure that the skin does not get too dry.
People with very sensitive skin may not be good candidates for this procedure. Dermaplaning is not designed for people with acne or those who experience frequent breakouts because it can trigger over activity of the sebaceous glands
What are the Benefits of Dermaplaning?
Dermaplaning is often considered a 'manual exfoliation' technique because it effectively gets rid of the outer layer of skin to leave the skin much smoother. This procedure does not cause any trauma to the skin, and can be performed several times throughout the year for better results.
Some of the key benefits of dermaplaning include:
Helps exfoliate skin
Offers better results than traditional microdermabrasion
Glowing healthy look of facial texture
Removes dead skin cells gives your face a brighter complexion
More efficient and deeper penetration of topical ingredients
Can temporarily remove fine, downy hair with ease
Little to no down time

Learn more about skin rejuvenation procedures in our information guide, or sign up for a free consultation to find out if you are a good candidate for this type of treatment