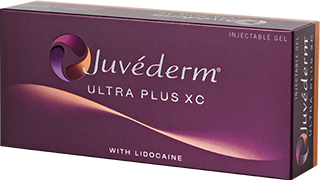 What Is JUVÉDERM® Injectable Gel?
Aging changes our skin. Over time, the natural volume of youthful skin begins to diminish as wrinkles and folds form. But, with Juvéderm® injectable gel, you don't have to just sit back and let it happen! Recently approved by the FDA, Juvéderm® injectable gel is a "next-generation" dermal filler. The smooth consistency gel helps to instantly restore your skin's volume and smooth away facial wrinkles and folds, like your "smile lines" or "parentheses" (nasolabial folds—the creases that run from the bottom of your nose to the corners of your mouth). JUVÉDERM® is also an excellent filler adding just that right amount of softness and voluminous to your lips.
Juvéderm® is a smooth consistency gel made of hyaluronic acid—a naturally occurring substance in your skin that helps to add volume and hydration. I will treat you with Juvéderm® injectable gel under the skin to provide a smooth, natural look and feel—so everyone will notice (but no one will know)! In fact, studies show superior results of Juvéderm® compared to a collagen-based dermal filler.* and, almost 90% of all study volunteers who were treated with both Juvéderm® injectable gel and another dermal filler* preferred Juvéderm®!
What to expect during treatment
Because Juvéderm® injectable gel is a simple, nonsurgical treatment, there is minimal recovery or downtime. So you can make an appointment to stop by your healthcare professional's office for treatment on the way home from work or the gym, or even while the kids are at soccer practice—and get right back to your life. Here's what to expect when you visit Love Laser & Med Spa for treatment.
When you arrive: If this is your first visit, I will ask about your medical history, including any allergies you may have or medications you may take, and will tell you more about wrinkle treatment with Juvéderm®. Juvéderm® injectable gel does not require an allergy test.
Determining your treatment needs: I will examine the soft tissue of your face to assess the depth of wrinkles and folds to determine your treatment. Juvéderm® Ultra Plus XC is a robust formula that promotes contouring, adding volume and correcting deeper folds and wrinkles. It is also used to add fullness and definition to lips. I will tailor the treatment to your unique needs.
The procedure: I will ease the Juvéderm® injectable gel under your skin to augment, or fill, wrinkles and folds. Following the injection, I may gently massage the treated areas. The procedure is quick and easy.
After the procedure: With Juvéderm®, there is minimal recovery or downtime.
For the first 24 hours following treatment, you should avoid strenuous exercise, excessive sun or heat exposure, and consumption of alcoholic beverages in order to help minimize the risks of temporary redness, swelling, and/or itching at the treatment sites. After the treatment, some temporary injection-related reactions may occur, including redness, pain, firmness, swelling, and bumps. Studies have shown that these are usually mild to moderate in nature and clear up on their own in 7 days or less. If you experience swelling at the injection site, you can apply an ice pack for a brief period.
Seeing results: You should see an immediate improvement in the treated areas. Most patients need one or more treatments to achieve optimal wrinkle smoothing, and the results last up to 8 to 12 months or more. However, results may vary and correction is temporary. Supplemental "touch up" treatments may be required to achieve and maintain optimal results.
Benefits of JUVÉDERM® Injectable Gel
Hyaluronic acid dermal fillers like Juvéderm® injectable gel offer a safe and effective nonsurgical option for smoothing facial wrinkles and folds. In fact, they are the fastest growing nonsurgical aesthetic procedure in the United States according to the American Society of Aesthetic Plastic Surgery. But all dermal fillers are not the same!
If you're interested in being treated with this nonsurgical treatment option, you should know the advantages of choosing Juvéderm® injectable gel:
A "next-generation" filler: JUVÉDERM® is a "next-generation" non-animal dermal filler that is made from hyaluronic acid—a naturally occurring substance that plays a vital role in hydrating your skin and replenishing its natural volume. No allergy skin tests are needed prior to receiving treatment.
Advanced technology for long-lasting results: JUVÉDERM® injectable gel employs its unique manufacturing process to provide the highest concentration of cross-linked hyaluronic acid of any currently available hyaluronic acid dermal filler for long-lasting results. This advanced manufacturing process also creates a smooth consistency gel that flows consistently and easily into the skin and provides a smooth, natural look and feel. Juvéderm® is the only filler available with this smooth consistency gel formulation—other existing hyaluronic acid fillers are made of granular consistency gels.
How long does JUVÉDERM® last?
JUVÉDERM® can last 8 to 12 months with optimal correction. There is evidence that Hyaluronic acid Juvéderm (and Allergan's entire family of fillers) actually helps to stimulate the production of new collagen by your own body, in in some cases longer duration of improvement may be seen.
What does the XC after JUVÉDERM® ULTRA PLUS XC mean?
XC means there is a small amount of lidocaine mixed with the Juvéderm® that helps numb the area during treatment.
Are the injections painful? There is minimal discomfort during the treatment process. Topical numbing cream may be applied before treatment to reduce discomfort. We also offer additional anesthetic choices for you, if needed.
How long does a treatment take?
That depends on the extent of the areas being treated, the volume of filler being used and also the complexity of the treatment. Most injections might take only 15 to 30 minutes, but some treatments can require considerably more time depending on what areas are being treated. I schedule 45 to 60 minutes for filler appointments to ensure a relaxed atmosphere. Facial sculpting requires the use of an artist's eye and pallet. JUVÉDERM® ULTRA PLUS XC is used in the treatment of residual smile lines or furrows, nasolabial or nose-to-lip folds and smile lines. It may also be used for Lip lines and to add fullness and defination to lips.
So the more complex and creative the treatment the more treatment time is required. Artistry is a vital part of truly rejuvenating the whole face and that adds another dimension beyond just the technical skills for injecting. As a cosmetic artist I want to create the most natural beautiful appearance that I can.